Arcane: League of Legends - The Loop
Play Sound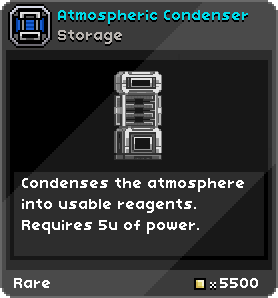 The Atmospheric Condenser is a Powered Station that pulls resources straight out of the air. To use it simply power it, and collect the things it produce.
Its recipe can be unlocked via the Electronics section of research. It will require 2,700 research and one power core to unlock.
This Powered Station requires 15u of power to work.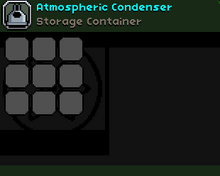 Unlocked by: Liquid Collector
Chance
[
]
The atmospheric Condenser generates a random number between 1 and 100 each tick. If the number equals 100 (1% chance), it produces a random item from the rare item list. If the number is between 79-99 (21% chance), it produces a random item from the uncommon item list; otherwise, it produces a random item from the common item list.
Every time an item is produced there is a cooldown which depends on the rarity of the item and the world type.
Produces:
[
]
Common (all planet types without special tables)
[
]
Moons
[
]
(Normal, Desert, Shadow, Rocky, Toxic, Volcanic)
Desert (Normal, Red,

Dark Red

)

[

]
Oceanic
[
]
Toxic
[
]
Recipe
[
]
Unlocks:
[
]
Source
[
]
Use the source material to update the list.