The CT-4 Miner and its following tiers are the most powerful mining lasers in the game, able to reduce anything short of moon cores to blocks in a second or two.
Unlike the previous mining lasers, the CT-4 Miner has 13 tiers, beginning at level 8 from when it was upgraded from the KX-1 Miner, all the way to the maximum at level 20.
The CT-4 Miner is the upgraded version of the KX-1 Miner, upgraded at the Tool Upgrade Table using 24/30/36/42/48/54/60/66/72/84/90/99/108 manipulator modules. (Total of 813 manipulator modules.)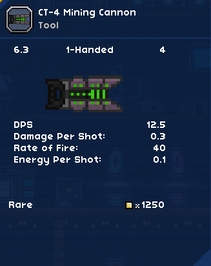 Community content is available under
CC-BY-SA
unless otherwise noted.